As Time Goes By…: [Phase 1]: 'Ancestral Acquaintances' – Character Creations
Description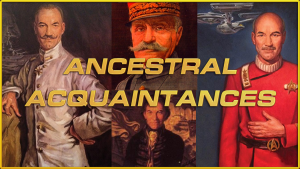 You will need to create one of your character's ancestors who served in Starfleet prior to 2379. You will need to write a full character biography and upload it to the BFMS.
Winners will be picked on the following factors: • the most original character; • how well the character's personality, qualities, hobbies and interests are developed • Their early life, including notable description of their childhood, teen years as well as other important family members and friends; • A detailed service history within Starfleet, including examples of certain missions that they performed well in (or not so well in); • How they died in the line of duty (if they're dead).
Remember to put a link from the BFMS with your submission.
Submissions
Please read through and view each competition submission before making your decisions. As a general rule of thumb, the earliest person who submitted a fully correct entry should earn first place, although this may vary depending on the competition you hosted. Don't forget to compare each entry with your criteria as a rubric for grading! Feel free to contact the Chief of Staff if you have any questions about the judging process.
| User | ID | Content | Date | Entry |
| --- | --- | --- | --- | --- |
| Khaled al Rashid | 1732 | Link to character bio: https://bravofleet.com/character/25649/ Note: This bio was written to be open ended. Jack exists within the Holodeck timeline of the late 2200s, and his fate is unknown. I intend to use him as a character down the road when I make Lieutenant Commander and can command my own ship. | 2020-08-16 01:26:07 | |
| Jackson Porter | 2115 | https://bravofleet.com/character/25223/ | 2020-08-14 03:52:58 | |
| Makayla Adams | 10 | Sasri Dex (Second Host to Dex Symbiont): https://bravofleet.com/character/25393/ | 2020-08-12 04:48:37 | |