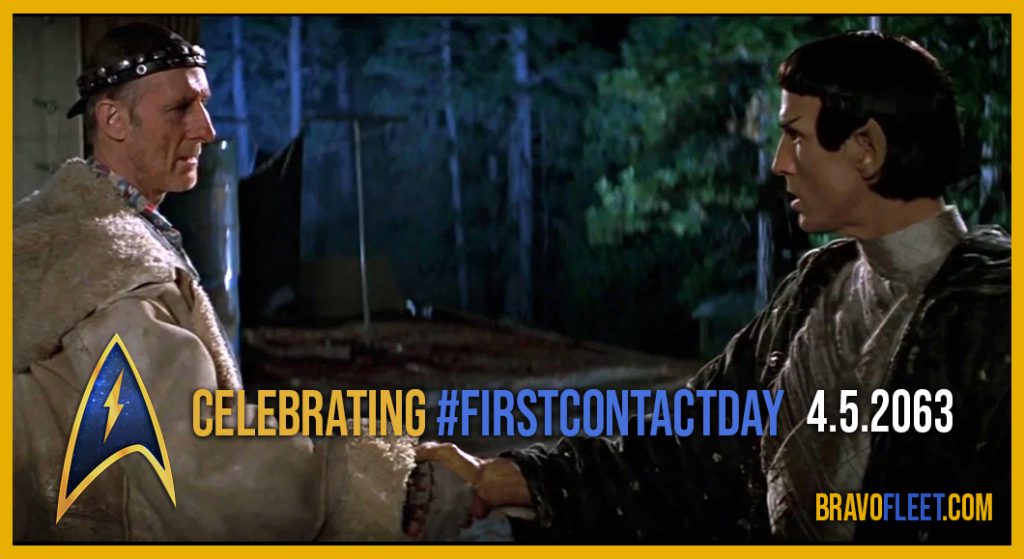 We've finally made it to another First Contact Day, Bravo Fleet!
Make sure you check out all of the Star Trek stuff going on all day today. This has become one of my favorite days of the year, and I can't wait to meet the Vulcans when I'm in my 70s! Star Trek and Paramount+ are running marathons all day, panels, virtual celebrations, donation campaigns, official merchandise sales, and so much more! Check it out today at https://startrek.com/firstcontact
In celebration, 3 of our more recent competitions have closed, and we've opened up a few more! First, the results of the ones that closed:
Archanis Competitions
This one was pretty straightforward and I have no comments on individual placements. However, I do have a couple of quick notes. The really good news out of this one is all of the entries were pretty neck-and-neck with very few outliers! That's great because it means it's working as intended. The unfortunate news on this one is that out of all of the participants, 4 people were disqualified. That isn't a lot compared to all the entries, but worth mentioning things to look out for in future competition submissions. Please, please, please read the competition criteria and instructions before you begin/submit these. For this one, the criteria were quite clear:
Entries must be submitted through attaching a screenshot of the final time taken to complete the word search as well as the score. If the final time is not included in the screenshot, your entry will be disqualified.
Two people submitted the certificate that doesn't have the time on it, one submitted no screenshot at all and simply wrote a time in the box, and another appeared to submit a word search submission from a completely different competition back in December. Just stuff to look for and keep in mind when submitting in the future.
But, without further delay of my haranguing, the top three placements go to:
Revarric
JShepard
DarthCrusader
Congratulations to all those who placed, and to those that participated! If you did participate, please make sure to note that in your activity log as participation does count towards merit awards and promotions.
This one was also pretty straightforward. Again, most of the entries were pretty neck-and-neck, indicating that it was working as intended and not too difficult. This one only had one disqualification which was the result of what appears to be submitting a screenshot of a completely different competition. Just be more careful out there, folks!
Our top three placements for this one are:
JShepard
Revarric
McGig
Again congratulations and please be sure to note any participation in your activity log!
Unfortunately, this competition only got two entries. Perhaps due to how unique it was, but we must try things to see what people react to!
Both entries that were submitted for the Elevator Pitch were excellent contributions making it hard to decide which one came out on top. But, a winner must be chosen!
JShepard — Some excellent work here to contribute to the larger conversation about what Bravo Fleet is and how someone can jump right into all the fun. Thank you for contributing to the future of recruitment in the fleet!
rswri234 — Thank you for contributing a great tagline: "All set in the World of Star Trek, imagining what happens when the camera stopped rolling."
Task Force 93 Competitions
Task Force 93 is running a series of competitions right now for all of Bravo Fleet to participate in based on the Finale of the Archanis Campaign quickly approaching! They are:
Klingon Crest Puzzle — All Klingon houses have a crest that represents their house, have you ever wanted to know what the D'Ghor crest looks like? Well, you are in luck by solving this puzzle you will be able to find out just what theirs are!
Archanis Map Puzzle Game — Throwing a new game in the mix, something that will get your mind working and just figuring out how to solve the problem. The Archanis map has been scrambled up, can you unscramble that image?
Archanis Word Search — Time is of the essence to drive out the renegade Klingons out of the Archanis Sector, can you find the words in this word search.
First Contact Gaming
Always working on new and inventive things, the Gaming Office also has some First Contact stuff going on right now and for much of the month! Check out some of the competitions and events:
A Star Trek Trivia Challenge run by our very own Gaming XO! From what I hear, it is challenging to say the least. Come take the challenge, maybe you will do well, maybe not? This does not require any knowledge of Star Trek Online, but it does not hurt, right?
The first-ever STO First Contact Day Scavenger Hunt! This is a challenge that is designed to not be easy – finding these Easter eggs in the game requires you to have knowledge of Star Trek, Star Trek Online… and The Simpsons? Fascinating.
STO First Contact Event – to mirror STO's own event – also has a chance of getting bonus ribbons based on how you do with the building of the Phoenix.
Today especially we live long and prosper, Bravo Fleet!